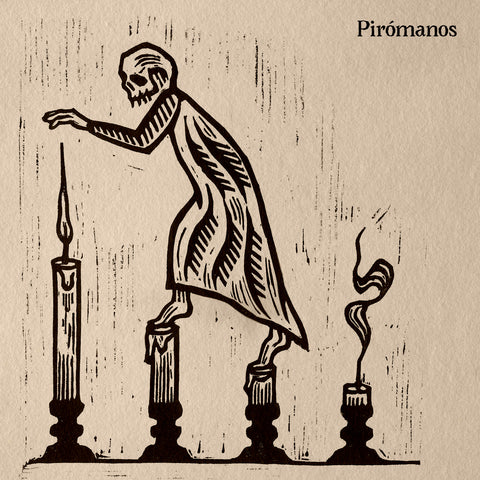 Granuja & Jam Baxter - Pirómanos (Digital)
STREAM / ORDER 'Pirómanos' - https://bfan.link/piromanos
'Pirómanos' (directly translating as 'pyromaniacs') is the third single from Colombian legend Granuja and UK rap outlier Jam Baxter. 

Evoking the fiery crimson tones of a burning hatchback in an underpass and interwoven by the creeping menace of a black and white film noir crime thriller, 'Pirómanos' firmly doubles down on the energies of lead single 'Huéspedes'; both Granuja and Baxter purging the depths, expertly scored by Jack Danz' customary gothic shroud.

~

"Pirómanos" es el tercero sencillo de la leyenda colombiana Granuja y el elusivo británico MC Jam Baxter.  
 
Evocando los tonos ardientes de color carmesí de un coche en llamas en una senda subterránea, y mezclada con la amenaza ahumada de una película de crimen film noir, "Pirómanos" se suma a y fortalece la energía del single principal "Huéspedes"; tanto Granuja como Baxter purgan sus profundidades internas, marcados siempre por el ritmo expertamente gótico de Jack Danz.
*Available in both MP3 and WAV formats.