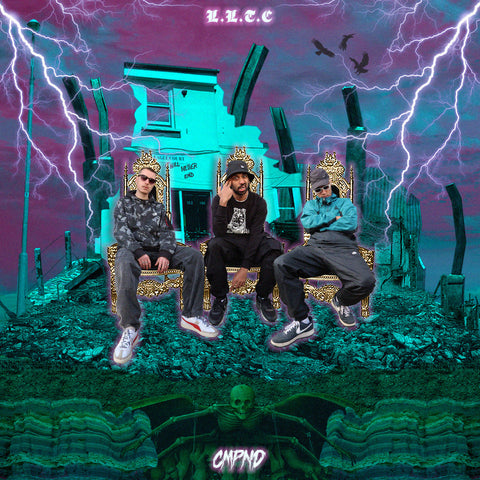 CMPND - Long Live The Court (Digital)
For the uninitiated, CMPND (pronounced compound) are a hybrid rap super group formed of producer and rapper Wundrop and MC's Kemastry & Vitamin G. Coming off the back of their cult classic, Eagle Court (released on High Focus Records) the trio are gearing up to return with more raucous depraved antics on Eagle Court II: Long Live
 The Court. Picking up right where they left off mixing insanity and debauchery, pain and pleasure, introspection and surrealism into a deludamolic delicacy for the audience to savour.

Skilfully expressing their unique personalities  whilst simultaneously producing a coherent piece of art that stays true to CMPND's underbelly ethos.
This densely packed 18 track album defies categorisation, as the trio bring a whole new vision and aesthetic to the forefront whether it be the mind boggling production or the ferocious pen game. Featuring Datkid, TrueMendous, Orifice Vulgatron, Bil Next & many more, this is essential listening for all...
'Long Live Eagle Court' is officially released on the 30th June 2022.
Tracklist:
01. Ain't Gonna Fold
02. Weaintplayin
03. Court In Session
04. Acid Reign
05. Nice Riot
06. Illeagle Court II Feat. Hutch
07. D.I.T.D
08. The Culprit
09. Pick A Card
10. Skrewed Feat. Bil Next
11. Guaranteed Wins
12. Tiny Violin Feat. Orifice Vulgatron & Datkid
13. Playinu Feat. Maddy & Louis Loan
14. Suh Quelle
15. Went There
16. Bojangles Jesus
17. Crazy Town Feat. Elsa
18. Griezmann Feat. Tzusan & TrueMendous