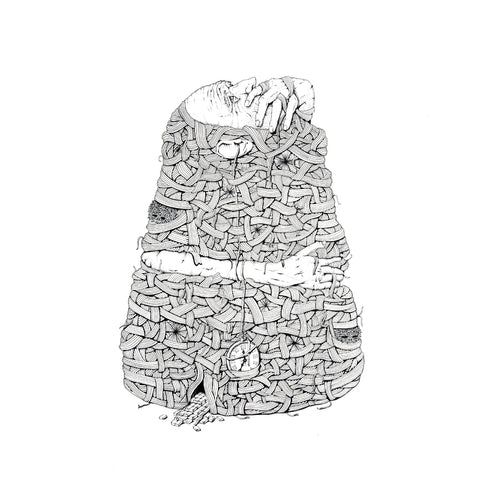 Telemachus - Boring & Weird Historical Music (Digital)
'One of those slightly obscure figures who has helped British music move along more than most people will probably ever know.'  - The Guardian

South London avant-garde producer, and long time High Focus collobator, Telemachus, is set to release 'Boring & Weird Historical Music' on the 22nd of May 2020.

Counting Trip-Hop, Ambient, West African High Life, Dancehall, Jungle, Folk and Film Soundtracks as his influences, there is something for everyone on this creative masterpiece.Predominantly instrumental but does have a handful of collaborations with vocalists Killa P, Jerome Thomas, RHI, Penelope Oddity and Chris Belson. 'I Am Delicious And Cute. So I Will Go Buy Again' is a meditative journey upriver, whilst'Wickedest Ting' completely flips the switch with a dancehall barrage from Killa P. Another highlight is the apocalyptic jazz of 'Greed' which features the remarkable neo-soul vocals of Jerome Thomas.
During times of such uncertainty, music and its healing properties have become even more vital. 'Boring & Weird Historical Music' is a calming, curative and monumental 15 track journey through the mind of the enigma that is Telemachus. As he himself puts it: 'the album certainly rewards a thorough and engrossed listen, but equally the general atmosphere is pleasant enough to play for your auntie when she comes for tea.'
This limited edition digi pack CD comes with an 8 page pull out booklet, telling the story of 'Uncle Som', a peculiar parable, upon which the album is based around.
Tracklist:

01 Ungraceful Piano Sequence

02 Beaten Gold Feat. Penelope Oddity

03 If You Look At Your Face, You Will Know What It Is

04 You Wanted To Eat A Handful Of Sardines. Did You Not?

05 Greed ft. Jerome Thomas

06 Disaster-Enabled Vending Machines

07 A Drizzle Of Vague Compliments

08 Wickedest Ting ft. Killa P

09 Caroline What is Wrong With You

10 Trying 2 Be Tru 2 Vetruvius

11 By The Moon ft. RHI

12 Private Sufficiency, Public Luxury

13 I Am Delicious And Cute. So I Will Go Buy Again

14 Battle Sequence

15 Fools Gold ft Chris Belson