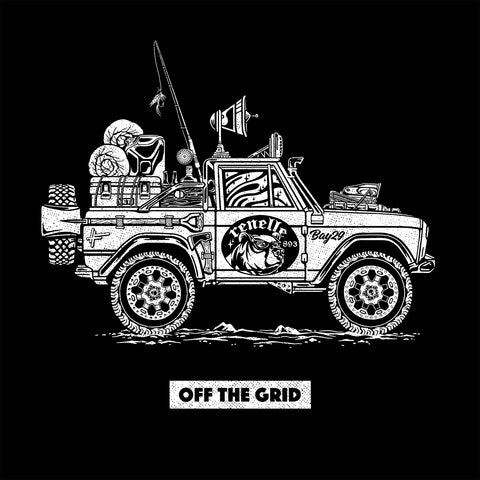 Renelle 893 & Bay29 - Off The Grid (Digital Download)
"I've been in the depths more than once dude…"

Following hot in the footsteps of his debut HF release 'Cocoa Butter', 'Off The Grid' sees Renelle 893 team up with producer Bay29 on a body of work that offers an escape route from the monotonous every day; the duo taking us further and further off the beaten track, marrying moments of purest hedonism with stark reminders that the real world lies in wait, just after sunrise, with no pause button in sight.

Laying the foundations with summer anthem (and lead single) 'Spaghetti', Renelle wrestles with the fleeting nature of youth, and his topsy turvy relationship with the finer things in life. The dynamic is both gritty and nostalgic as Renelle walks the fine line between Hollywood hedonism and slurry excess, his mood swinging between moments of invincibility and vulnerability, expertly scored by Bay29's ethereal, bass dripping instrumentals.

Another SE London / Brighton hook up, one of many on the label in recent years, Renelle utilised his late night train rides to-and-from Bay29's Brighton studio as an opportunity to refine the verses that make up the bones of the project.

Twelve-tracks; six vocal, six instrumental, 'Off The Grid' is the first in a series of new works from Renelle 893 & Bay29. A perfect scene-setter for what's to come.

As Renelle 893 explains… "Off The Grid is about soul searching and figuring out what kind of adult I am looking to be, navigating a world filled with distractions that will do everything to numb the pain as life inevitably passes you by…"

TRACKLIST
01 - Spaghetti Feat. Vitamin G
02 - Swamp Monster
03 - Recognise
04 - 8 Ball
05 - Off The Grid Feat. Cutta Chase
06 - Deadline 
07 - Spaghetti (Instrumental)
08 - Swamp Monster (Instrumental)
09 - Recognise (Instrumental)
10 - 8 Ball (Instrumental)
11 - Off The Grid (Instrumental)
12 - Deadline (Instrumental)
~
'Off The Grid' is OUT NOW, officially released on 30.06.2023
*The download includes both WAV and MP3 formats.