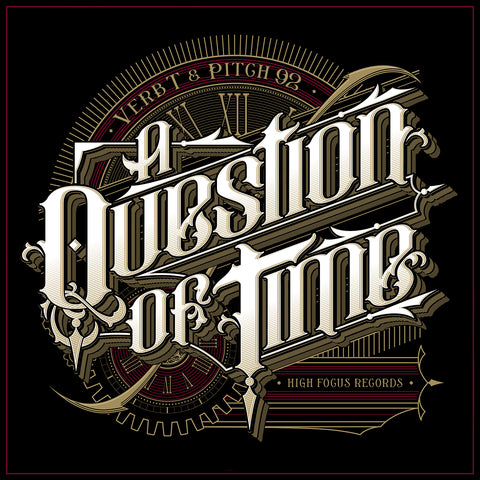 Verb T & Pitch 92 - A Question Of Time (Digital)
High Focus Records is proud to present 'A Question Of Time', a brand new collaborative album from UK hip Hop's most prolific duo: Verb T & Pitch 92.
At 13 tracks, clocking just over 38 minutes, 'A Question Of Time' is a full on immersive experience. Much like the nature of time, its hard to quantify how the pair have packed so many concepts, rhythms and rhymes into such a small space. Whether nostalgic or looking forward, Verb T, guides the listener on an epic journey over the ever changing moods and atmosphere's provided by Pitch 92 which vary from urgent 'the clock is ticking' type pressure to the 'time slows down' mellow vibes he has become known for, appropriately described as 'Pete Rock Perfection' by The Wire.
Tracklist: 
1. Power of Attorney  
2. Tradgedy & Comedy
3. Checked in
4. Cracked Mirror
5. When The Wind Changes
6. Cold Case featuring TrueMendous 
7. What They Told Me feat. [ K S R ]
8. A Question of Time feat. Rye Shabby 
9. New Love Born
10. Limitless Progression
11. Frostbitten 
12. Coffee and Grapefruit
13. The Answer is Now