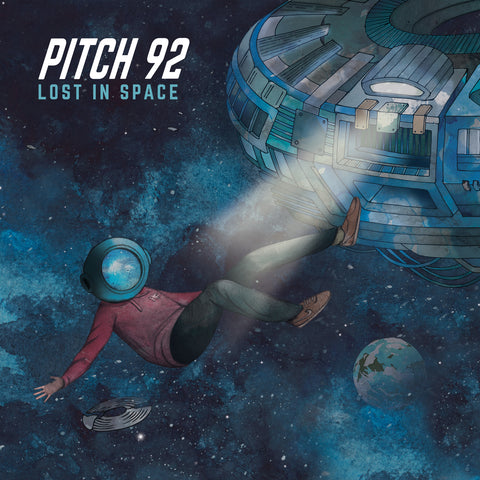 Pitch 92 - Lost In Space EP (Digital)
A year on from 'Good Evening', the critically acclaimed collaborative album with Verb T & his stellar contribution to Ocean Wisdom's UK TOP 40 'Wizville' album, producer Pitch 92 is ready to show off his new works to the world, as he enters a new stage in his career and begins to spread his wings as a solo artist. Known for his soulful sound, inspired by the likes of Madlib, Pete Rock & J Dilla, Pitch 92 has carved out his own unique style and pulled out all the stops for his debut release on High Focus Records.
Entitled 'Lost In Space', this new EP is a perfectly balanced mix of vocal and instrumental tracks showcasing the raw talent of the Manchester based producer. Pitch 92 has assembled a healthy roster of artists to work alongside, ranging from UK Hip Hop royalty to up & coming US artists as well as accomplished musicians.
Spanning from UK Hip Hop favourites such as Jehst & Verb T, to new faces such as [ K S R ], Sparkz and Doctor Outer as well as hooking up with Sony Music's Ashely Henry, one of the UK's most accomplished jazz pianists as heard on 'One Handed' - Pitch 92, armed with his trusty MPC, expertly provides the perfect backdrop to accommodate each of his guests, as well as putting forward instrumentals that stand out as masterpieces in their own right, Pitch 92 applies finesse and the ability of a veteran producer, despite only being 26 years old - One listen of lead single 'Lost In Space' featuring Jehst and Confucius MC is all you need to confirm that we are indeed listening to a master at work.
In short, 'Lost In Space' is a production masterclass and serves as the perfect introduction to the Pitch 92 sound, of which you will be hearing more and more, guaranteed.
Tracklist:
1. Lost In Space Feat. Jehst & Confucius MC
2. Plane Ticket Feat. Verb T
3. Dawn Feat. Sparkz, [ K S R ] & Doctor Outer
4. One Handed Feat. Ashley Henry
5. Lost In Space (Instrumental)
6. Plane Ticket (Instrumental)
7. Dawn (Instrumental)
8. Mystery
9. XPJ