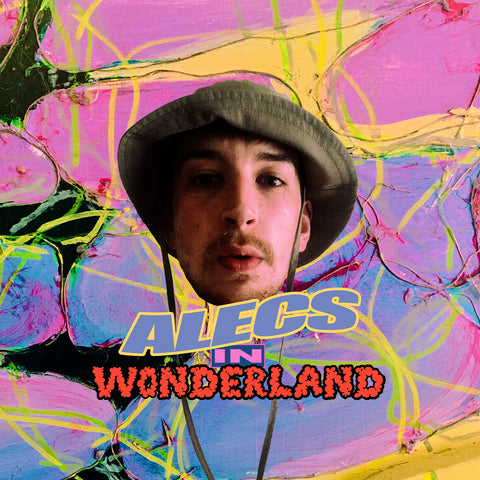 Alecs DeLarge - Alecs in Wonderland (Digital)
Written during a year of hedonistic isolation whilst exiled to a forgotten mining village, Alecs in Wonderland' is the debut self-produced rap album by rap enigma and 'one man band' Alecs DeLarge. 

Alecs navigates 'Wonderland' with a bulging backpack of references to 90's Toonami imports, king skins and rap nerdology, multi-syllable boxing through beats in a smoked out stream-of-consciousness drawl. From the cartoonish braggadocio on 'Scooby Snax' and 'AM To AM', to proclaiming his love for his anthropomorphic MPC 2000 on 'Girl Joint', Alecs emphatically proving that he's much more than just the man behind the boards. Merging classic New York rap sensibilities with sarcastic British humour, 110's and Berghaus coats taking the place of Timb boots and Lo sweaters. 
Musically Alecs draws inspiration from Quasimoto's anything goes approach, feeding his sampler a range of ingredients from 80's pop to private-press French prog. Grainy samples of VHS TV recordings warble atop rumbling 808s, diced up jazz and funk fragments punch their way through stuttering MPC drums, whilst guitar loops rock back and forth, all glued together by a loose narrative made up of cut up cartoon dialogue, movie trailers and adlibs.
Wonderland is Alecs' custom built version of The Matrix, a perfect world created to escape the one outside his council flat window, idyllic living in Lynchian reality. A therapeutic outpouring of the lonely man's psyche, or maybe just a slow descent into madness, polished and delivered to your ears in Long Play form.
For the majority of 'in Wonderland', Alecs is the sole cast member. The first of the two guest spots going to the ever brilliant King Kashmere, reuniting with Alecs to ruminate the two sides of fame on 'Megabus Dreams', whilst HPBLK swoops in to drop a "stack on your conscious" on 'Empty Pocket Posse'.
TRACKLIST
1 - $50 Million 
2 - Scooby Snax
3 - Green Goblin
4 - Attaman!
5 - AM To AM
6 - Wonderland
7 - Megabus Dreams Feat. King Kashmere
8 - Empty Pocket Posse Feat. HPBLK
9 - Magic Scones [Skit]
10 - Muscle Head
11 - Girl Joint
12 - Timbos x Pathfinders
13 - Mushroom Hill [Skit] 
14 - Far Out, Man
'Alecs in Wonderland' is available to PRE-ORDER.
*Digital attachment is scheduled to be sent on 29/09/2023.